Learn cybersecurity skills this summer and get ready to compete in October 2023!
Email Priya at priya@peiitalliance.com to get more information.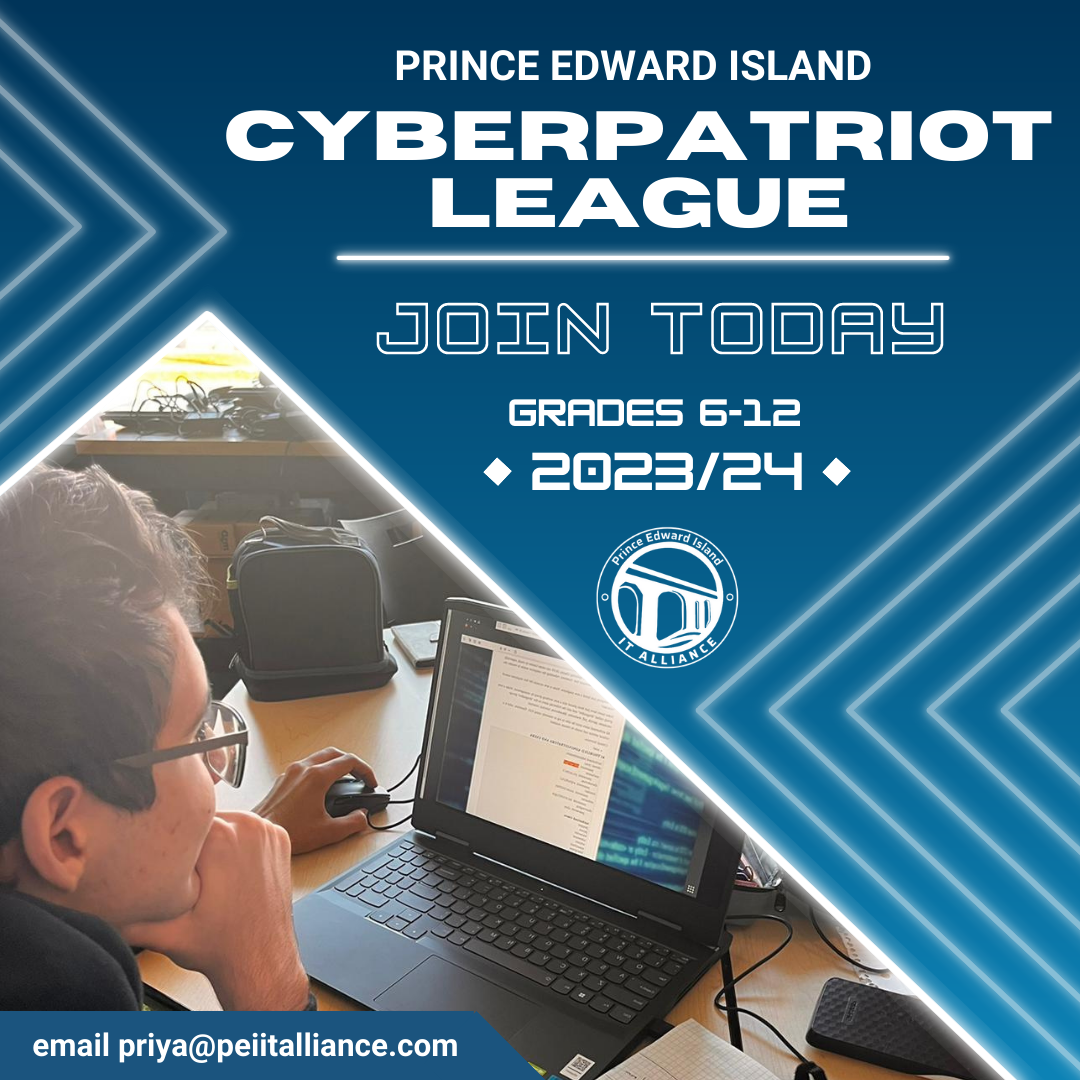 Are you ready to become a cyber warrior and compete in the largest cybersecurity competition in the world? Join the PEI IT Alliance CyberTitan team and take on the role of a newly hired IT professional, tasked with protecting a small company's network from cyber attacks. With over 3000 teams participating worldwide, the CyberTitan National Youth Cyber Defense Competition is your chance to show off your skills and earn national recognition and scholarship money!
Starting in Fall 2023, the competition rounds will put your computer skills to the test, as you search for and fix cybersecurity vulnerabilities while keeping critical services running. The top teams will earn all-expenses-paid trips to the National Finals Competition, where you'll have the chance to network with sponsor representatives and meet other talented cyber warriors.
Read more about the CyberTitan/CyberPatriot Competition: https://www.uscyberpatriot.org/competition/Competition-Overview/competition-overview
Who can participate in the CyberTitan league?
The league is open to students in grades 6-12 all across PEI! Even if you have no cybersecurity experience, but are interested or curious about the field, you're welcome to join our team.
Join us now and build your computer skills, explore the exciting world of cybersecurity, and get a head start on your career in IT! Don't wait – email us to sign up and become a part of the PEI IT Alliance CyberTitan team today!
PEI CyberTitan League Timelines
May to September 2023 → Training rounds and preparation
Throughout the spring and summer of 2023, we will provide training to introduce students to cybersecurity and prepare them to participate in the competition. Students are welcome to join the team in the summer to try it out before teams are confirmed in the fall.
October to December 2023 → Competition Rounds
We will form teams depending on the number of students in the program and the skills. In the 3 competition rounds, students will have the opportunity to gain points in the competition rounds and advance to the semifinals and Nationals.
2024 → Semifinals and Nationals
Students have the chance to compete in semifinals and national rounds if they gain enough points.
You won't be alone in this challenge. Our industry mentors, who work in cybersecurity on PEI, will provide you with training and support throughout the competition!
2022/23 Team "Hack the Red Island" CyberTitan VX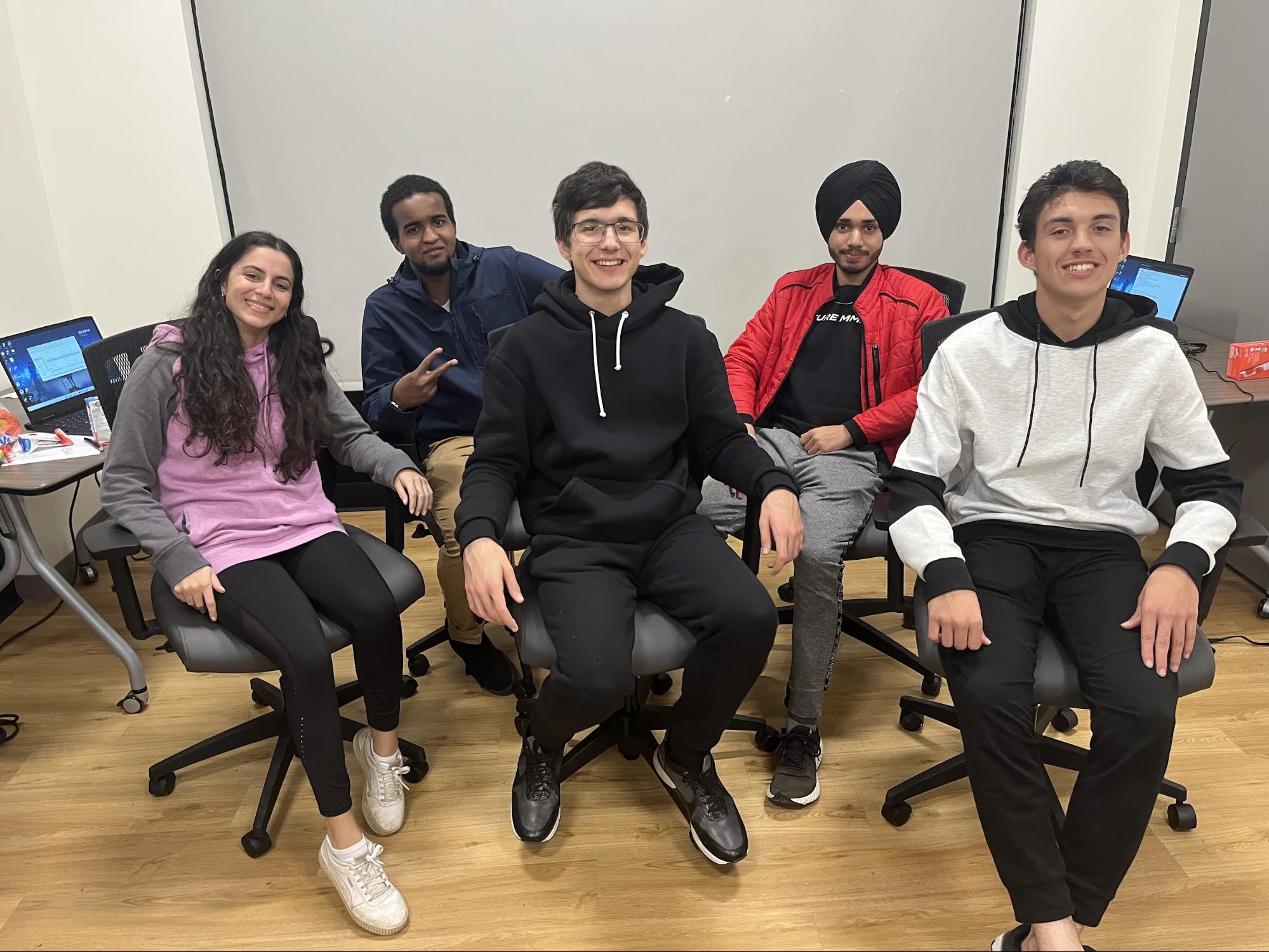 From left: Priya Jain (coach), Adnan Hussein (Grade 12, Colonel Gray High School), German Ivkovich (Grade 12, Charlottetown Rural High School), Persehaj Singh Baidwan (Grade 12, Charlottetown Rural High School), and Mohamad Eyad Allaham (Grade 12, Colonel Gray High School).
2022 Team Results
State Round: https://peiitalliance.com/news/high-school-teams-success-in-cybersecurity-competition-leaves-a-footprint-on-the-it-community
Round 2: https://peiitalliance.com/news/pei-it-alliance-cybertitan-round-2-press-release
Round 1: https://peiitalliance.com/news/pei-it-alliance-cybertitan-initial-round-press-release